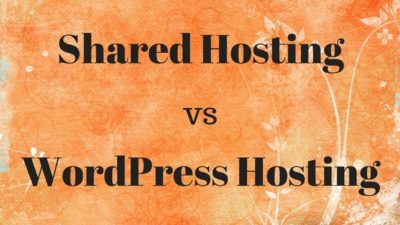 You are new to the world of blogging and need to choose a host for your first blog. You hear that WordPress is the best blogging software around (which it really is), and are now looking for a host for your first blog. After doing some research, you see that most web hosting providers offer two types of entry-level hosting packages – shared hosting and WordPress hosting. Shared Hosting typically costs $10 / month (refer to
True Costs of Web Hosting
) while WordPress Hosting starts at $17 / month. Somewhere, you read that one can host WordPress blogs on shared hosting as well. You are confused as to which service to buy. Don't worry, this brief and quick guide will help you make your decision.
Decision: Go with Shared Hosting. Read on to know why. If you don't want to know the reason, then click here to view the guide to the top shared hosting providers.
Managed WordPress Hosting (or specialized WordPress Hosting) is useful only if your blog is very famous and has more than 10,000 visitors per day. For a new blogger, shared hosting is more than enough. Don't get me wrong, there are certain advantages to WordPress Hosting. However, these are usually not needed for new bloggers , especially because they don't justify the 50% additional cost of WordPress hosting. Read on to see what the advantages of are.
Advantages of Managed WordPress Hosting
Blazing Speed – Managed WordPress hosting servers are configured specially and optimized for WordPress. They are fast and designed to scale even when your website gets a high amount of traffic.
Enhanced Security – Hosts have a tight security protection system enabled that actively scans for malware and blocks hacking attempts. In the event that you do get hacked, many hosts will fix this for you.
Expert Support – One of the biggest advantages of Managed WordPress Hosting is access to WordPress Experts. They know WordPress inside out and will help is recommending the best plugins, themes and the like.
Daily Backups – WordPress backups are created daily making it easy for you to restore your site in the event of any hack.
Automatic Updates – WordPress updates are done automatically and you don't have to worry them.
Dev Tools – Most hosts will provide you with a staging area and other developer tools specially targeted for simplifying management and development of WordPress sites.
Now you might wonder, if there are so many advantages, should I just go and buy Managed WordPress Hosting. Well, you certainly can, but you must read the disadvantages too to make an informed decision.
Disadvantages of Managed WordPress Hosting
Price – This is the single biggest disadvantage. Managed WordPress hosting is significantly more expensive when compared to shared hosting. Plans usually start at $29/month where as shared hosting plans start at $5/month.
Software Limitations – Remember, the server architecture is specialized for WordPress, hence, you can't use this hosting plan to run non-WordPress sites. If you are on a shared host, then you can also run other sites (like Wikis, Forums etc) in addition to your WordPress site. You also cannot run all WordPress plugins. WordPress hosting providers block plugins that slow down your site. This may be an issue of you are looking at continuously trying out new plugins which may not be approved by your hosting provider.
Less Control – With managed hosting, the provider is managing all the technical aspects of your site, hence you don't have nearly as much say as to what gets changed and when.
So if you look at the whole perspective, managed WordPress hosting is great if you are running just WordPress and need the hosting infrastructure to be optimized for it and are also willing to pay the extra costs associated with managed WP hosting. If you think that you can manage your site on your own (remember managing a WordPress site is easy, that's why it's the most popular blogging software in the world), then you are better off opting for shared hosting. You can proceed to see our recommendation of the best shared hosting service for beginners.
Let us know which kind of hosting you finally chose for your blog or first site using the comments area below.